NetCom Learning Named Platinum-Level Partner by CompTIA, the World's Leading Technology Association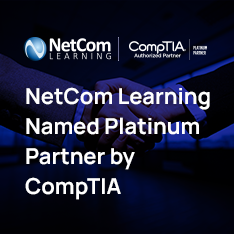 NetCom Learning achieves platinum partnership with CompTIA for top-quality security training and certifications
NetCom Learning, a leading provider of IT and business training, is proud to announce its Platinum-level partnership with CompTIA, the world's leading technology association. This recognition marks NetCom Learning's commitment to providing top-quality IT training and certifications to professionals worldwide.
CompTIA is the world's leading technology association, with over 2 million certifications issued and more than 2,000 members worldwide. CompTIA provides its members with access to the latest industry-leading training and resources. CompTIA's Platinum Partnership is the highest level of partnership available, and it recognizes NetCom Learning's expertise and dedication to delivering the best possible training and resources to its customers. With this partnership, NetCom Learning will have access to CompTIA's extensive library of resources and be able to provide its customers with the latest industry-leading training and certifications.
NetCom Learning has a long-standing commitment to providing its customers with the best possible training and resources, and this partnership with CompTIA further underscores that commitment. The Platinum Partnership with CompTIA will provide NetCom Learning's customers with the latest and most up-to-date information and resources in the industry, as well as access to CompTIA's network of experts and thought leaders.
"We are thrilled to be recognized as a Platinum-level partner with CompTIA," said Russell Sarder, CEO of NetCom Learning. "With this partnership, we at NetCom Learning will continue to be at the forefront of technology training and help our customers improve their security posture."
NetCom Learning helps build innovative learning organizations in the workplace by structuring a smarter workforce, supporting changes, and driving growth. With more than 24 years of experience, NetCom Learning has been empowering innovative learning organizations to adapt and drive growth in this fast-paced world by closing critical skills gaps and ensuring smooth deployment, implementation, and consumption through authorized training delivered by Certified Trainers on vendors such as Microsoft, AWS, EC-Council, CompTIA, and more.
Media Contact
Company Name: NetCom Learning
Contact Person: Media Relations
Email: Send Email
Phone: 1-888-563-8266
Address:252 West 37th Street Suite 1200W
City: New York City
State: NY 10018
Country: United States
Website: https://www.netcomlearning.com/