J.A Thomas' New Book Offers 7 Steps to Social Media Abstinence as Solutions to Social Media's Negative Effects on Teenagers
"Delete Me: 7 Steps to Social Media Abstinence" proposes that the best way to curb the ills of social media today is by going offline completely
Suicide is the second-leading cause of death among people aged 15 to 24 in the U.S. Nearly 20% of high school students report serious thoughts of suicide and 9% have attempted to take their lives, according to the National Alliance on Mental Illness. According to Dr. Carl Fleisher at UCLA Health, the things that make teenagers and young adults vulnerable are where they stand socially and where they stand developmentally. What continues to be a source of concern is the growing rate of social media addiction and other vices sponsored by this addiction. Wall Street analysts have compared social media platforms to digital "crack cocaine" and slate that the applications can be even more dangerous due to their constant availability.
To curb the menace of social media and redeem what is left of society and young people today, J.A. Thomas is thrilled to announce the launch of the new book, "Delete Me: 7 Steps to Social Media Abstinence." The book and companion audio book seek to put an end to the social media disease. There are currently no specialized treatments for social media addiction and anxiety-type conditions attributed to social media usage. Whereas most "remedies" for social media abuse call for "vacations," "breaks," and "parental surveillance" from the applications, "Delete Me" refutes these methods as ineffective. The author, J.A. Thomas insists that we're far better off abstaining from the applications altogether.
Video Link: https://www.youtube.com/embed/Z-xtjO6Pb9Y
In the book, J.A. Thomas, who is one of a growing army of industry experts going offline offers powerful and personal reasons for all of us to abandon these treacherous online platforms. The book's rationale for freeing ourselves from social media's toxic grip includes the applications' programmatic abilities to rewire our brains and likens the platforms to addictive substances.
In it, the reader witnesses the dangers of social media usage from a law enforcement and clinical mental health perspective. The methodology introduced within its pages offers a comprehensive step-by-step methodology to getting (and staying) offline through total abstinence. J.A. Thomas left a lucrative career in Big Tech in pursuit of investigating online crime with law enforcement. Now a critical crisis intervention counselor, Thomas hopes to foster transparent public health information surrounding the dangers of social media usage and its links to severe mental health conditions and the illicit online sex & drug trades.
The methodologies introduced in "Delete Me" insist on total abstinence from all social media applications as the key to driving us towards richer and more meaningful ways of living by connecting us back to the world beyond the tiny blue screen. The book and the Drugfr33.org initiative are designed to help concerned parents of adolescents and children (K-12), parents of college-aged children, parents of technology addicts households with multiple children, suburban families in wealthier or affluent communities, parents concerns with video game use, millennial parents, and much more.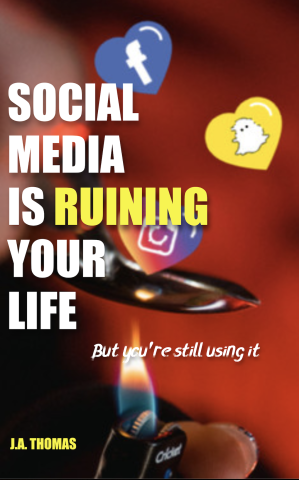 "Delete Me: 7 Steps to Social Media Abstinence", formerly circulated only within the law enforcement community, is now available to the public on Amazon and Kobo (audio book). To get the book, please visit https://www.amazon.com/Delete-Me-D-S-M-Social-Abstinence-ebook/dp/B09YNTWXV4?ref_=ast_author_mpb and https://www.kobo.com/us/en/audiobook/delete-me-d-s-m-7-steps-to-social-media-abstinence. The book is available as a free resource for school resource officers and educators. Readers can also obtain free guides and transparent public health information regarding the dangers of social media by engaging with the DrugFr33.org community chat through this link https://www.drugfr33.org/product-page/d-s-m-7-steps-to-social-media-abstinence-works-for-most-e-readers.
About J.A. Thomas
J.A. Thomas is the C.I.O. of DrugFr33.org and a former Fortune 500 technology engineer. J.A. Thomas started DrugFr33.org to disseminate critical community resources and public health information regarding the dangers of social media addiction and internet-type related mental health conditions. Drugfr33.org is made possible by the volunteer efforts of clinical mental health specialists and law enforcement.
For more information, please visit http://drugfr33.org/.
Media Contact
Company Name: DRUGFR33.org
Contact Person: J.A. Thomas
Email: Send Email
Country: United States
Website: http://drugfr33.org/